Details

Published: 11 March 2022
Hits: 2870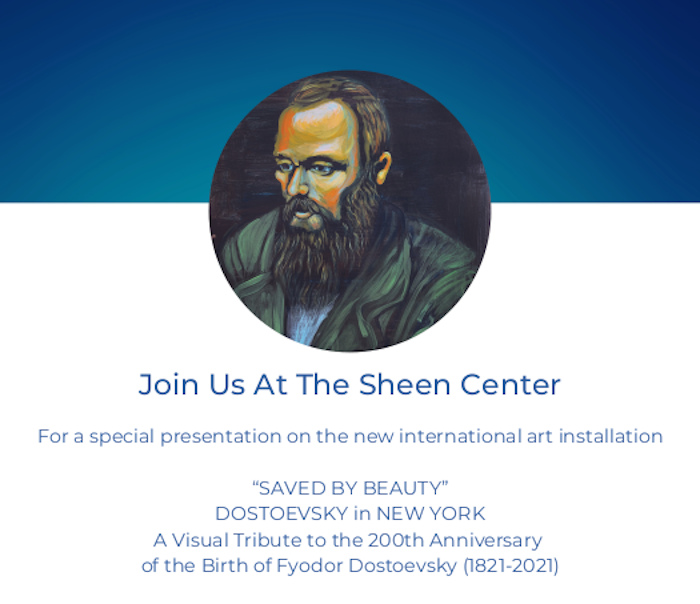 March 18 – April 30, 2022

Gallery Exhibition | Free Admission

Gallery Hours: Monday – Friday 11:00 a.m. to 7:00 p.m. | Saturdays 12:00 p.m. – 7:00 p.m.

"Man can live without science, he can live without bread, but without beauty he could no longer live."  --  Fyodor Dostoevsky (from the novel Demons)
Fyodor Mikhailovich Dostoevsky (1821-1881) is among the greatest literary geniuses of all time, having written such masterpieces as, The Brothers Karamazov and Crime & Punishment, that plumb the depths of the human soul and wrestle with eternal questions of the spirit. Having toured Greece and making its New York premiere at The Sheen Center, this exhibit spans two floors and gives visual expression to characters and existential and moral themes from his novels through a variety of painting styles by seven artists.

Reflecting various artistic currents in harmonious dialogue, the featured works embrace Byzantine and traditional Orthodox iconography conversing with impressionist, expressionist, cubist and abstract elements, as well as contemporary street art.

Collectively, these bold works seek to awaken in us a sense of a deeper spiritual reality and a transformative beauty that, as Pope Benedict writing about Dostoevsky said, "unlocks the yearning of the human heart, the profound desire to know, to love, to go towards the Other, to reach for the Beyond."

The exhibit features art by the Ochre Group [ochre.gr]: Fr. Stamatis Skliris, George Kordis, Bishop Maxim Vasiljevic, Babis Pylarinos, Costas Lavdas, Maria Panou, Giannoulis Lymperopoulos, Nektarios Mamais, Fotis Varthis, Konstantinos Kougioumtzis, Christos Kechagioglis, Nektarios Stamatelos, Despina Karantani, George Margaritis, Christina Papatheou-Douligeri.
Source: Sheen Center