Details

Published: 19 April 2014
Hits: 9547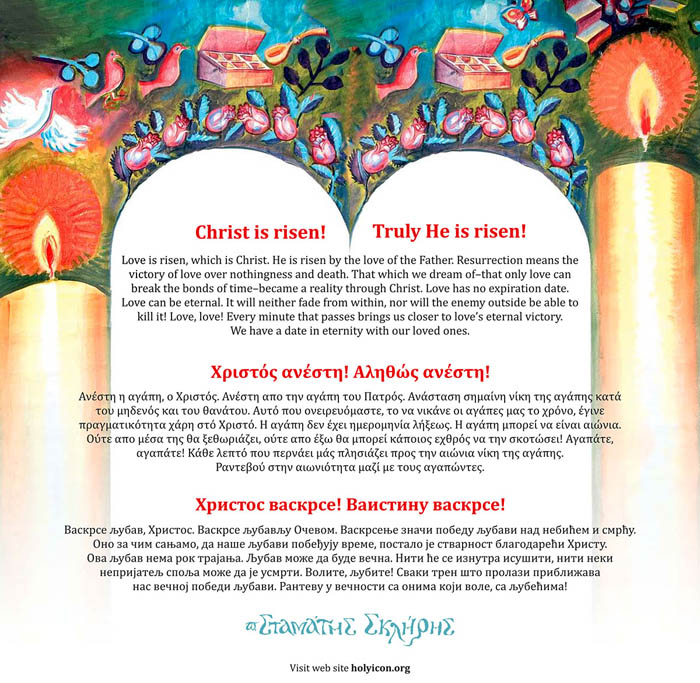 Christ is risen! Truly He is risen!

Love is risen, which is Christ. He is risen by the love of the Father. Resurrection means the victory of love over nothingness and death. That which we dream of—that only love can break the bonds of time—became a reality through Christ. Love has no expiration date. Love can be eternal. It will neither fade from within, nor will the enemy outside be able to kill it! Love, love! Every minute that passes brings us closer to love's eternal victory. We have a date in eternity with our loved ones.
Χριστός ανέστη! Αληθώς ανέστη!

Ανέστη η αγάπη, ο Χριστός. Ανέστη απο την αγάπη του Πατρός. Ανάσταση σημαίνη νίκη της αγάπης κατά του μηδενός και του θανάτου. Αυτό που ονειρευόμαστε, το να νικάνε οι αγάπες μας το χρόνο, έγινε πραγματικότητα χάρη στό Χριστό. Η αγάπη δεν έχει ημερομηνία λήξεως. Η αγάπη μπορεί να είναι αιώνια. Ούτε απο μέσα της θα ξεθωριάζει, ούτε απο έξω θα μπορεί κάποιος εχθρός να την σκοτώσει! Αγαπάτε, αγαπάτε! Κάθε λεπτό που περνάει μάς πλησιάζει προς την αιώνια νίκη της αγάπης. Ραντεβού στην αιωνιότητα μαζί με τους αγαπώντες.
Христос васкрсе! Ваистину васкрсе!
Васкрсе љубав, Христос. Васкрсе љубављу Очевом. Васкрсење значи победу љубави над небићем и смрћу. Оно за чим сањамо, да наше љубави побеђују време, постало је стварност благодарећи Христу. Ова љубав нема рок трајања. Љубав може да буде вечна. Нити ће се изнутра исушити, нити неки непријатељ споља може да је усмрти. Волите, љубите! Сваки трен што пролази приближава нас вечној победи љубави. Рандеву у вечности са онима који воле, са љубећима!
---