Details

Category: Byzantine Art & Postmodern Times
Hits: 1736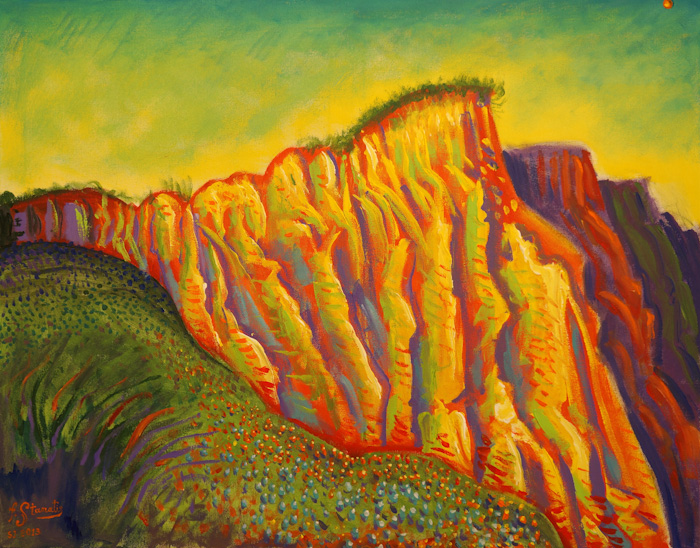 "Malibu 1", Acrylic on canvas, June 2013

This painting is an impressionistic study of the landscape of the highest points of the Malibu coast. This coast has unique features that the painter should take advantage of, which are particularly impressive during sunset. These are expressed in an impressionistic way, with contrasting strokes of warm and cool colors.
In the foreground, the coast takes on an anthropomorphic sense, as the rocks look a bit like a face, whose hair is the grass at the top of the rock, and which looks out to the ocean. It's a strong person, whose members: hands, feet, etc. are suggested in the other parts of the rocks. To the right, beyond the foreground is another rock that looks like a human (painted in bordeaux), another one that is green, and in the far background, one that is dark mauve. We could say that these are four elders that are looking out into the future. To the far left is a green slope, where we can see the same element as in the painting from Sedona: each little rock is painted individually, with its own color and unique brush strokes. This slope has a striking feature - it looks like the back of a large animal, whose neck is bent down at the far back left. The colors of the sky complement the painting. It has a yellowish green color, and in the dark section of the sky, the planet Venus can be seen; it's far away, in the dark green section of the sky. The combination of the rocks that don't move with this distant planet makes this painting a commentary on stillness and quiet. It's a painting that in addition to inspiring awe for the dynamic aspect of nature, also inspires silence.